Ultrasonic Watch Interior Cleaning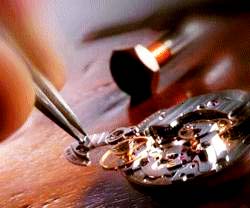 All watches need to be cleaned to stay in good working condition.
Over time, the parts inside of a watch gather dust and debris, or even rust and corrosion. Since the mechanisms of a watch are so tiny, even the smallest foreign object or surface blemish can disrupt their functioning and accuracy.
That's why our interior watch cleaning system is so helpful. At MJ Watch, we clean the complete interior of the watch, including the movement mechanism.
Cleaning the Interior of a Watch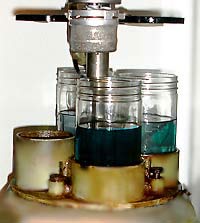 To do a thorough job, we completely disassemble the watch movement mechanism. This requires meticulous care because there are a multitude of parts, and they are fragile and small.
The disassembled parts are immersed in a special solution developed to treat their delicate surface with care. Gentle movement of the solution cleanses the parts.
In a second chamber, ultrasonic force - tiny, rapid vibrations - is used to further clean the watch parts. Even the most stubborn debris is removed without harming the tiny parts. This process loosens microscopic particles of rust, dirt, grime, etc. that affect the performance of your watch.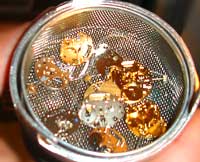 Finally the parts are rinsed in a special rinsing solution. When they are dried they come out looking brand-new! The difference that ultrasonic cleaning can make in the accuracy of a watch is often dramatic. This process is safe for any watch - mechanical or quartz.
Do not worry... we know how to put these parts back together!