Test the self-winding mechanism of any automatic timepiece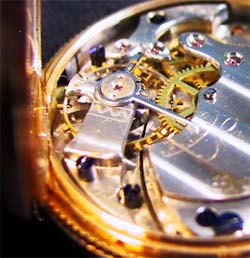 A self-winding watch winds itself while you are wearing it. The movement of a device inside the watch called the "oscillating weight" winds the watch automatically. Sometimes this device needs to be tested for accuracy and effectiveness.
Maybe you don't realize that you have a self-winding watch. Have you ever put a watch into a drawer, forgotten about it, pulled it out again, and realized that it isn't working? You just might have a self-winding watch.
If your watch is not running, bring it into our shop and we can get it running for you.
Test equipment
Our testing machine moves the mechanism of a self-winding watch just like wearing the watch would. Your watch should work for twelve to sixteen hours after being on the machine, depending on the make and the model of the watch. If it's not running correctly, then we find the problem and apply the solution.
After being spun on the machine, watches can then be tested for Timekeeping Accuracy ...